The Laws controlling the use of Airsoft in Illinois were adjusted in Public Act 097-1108  of 2013 to specifically declassify Airsoft Guns and other air guns as firearms. It means that Airsoft Laws in Illinois have specifically permitted the sale, transport, and use of airsoft guns within its state.
Below is a caption of the specific law and the exceptions to this law. After the caption, let's start to analyze this in layman's terms below.
Airsoft Laws in the State of Illinois
ARTICLE 24.8. AIR RIFLES

(720 ILCS 5/24.8-0.1 new)
Sec. 24.8-0.1. Definitions. As used in this Article:
"Air rifle" means and includes any air gun, air pistol,
spring gun, spring pistol, B-B gun, paintball gun, pellet gun
or any implement that is not a firearm which impels a breakable
paintball containing washable marking colors or, a pellet
constructed of hard plastic, steel, lead or other hard
materials with a force that reasonably is expected to cause
bodily harm.
"Dealer" means any person, copartnership, association or
corporation engaged in the business of selling at retail or
renting any of the articles included in the definition of "air
rifle".
"Municipalities" include cities, villages, incorporated
towns and townships.

(720 ILCS 5/24.8-1 new)
Sec. 24.8-1. Selling, renting, or transferring air rifles
to children.
(a) A dealer commits selling, renting, or transferring air
rifles to children when he or she sells, lends, rents, gives or
otherwise transfers an air rifle to any person under the age of
13 years where the dealer knows or has cause to believe the
person to be under 13 years of age or where the dealer has
failed to make reasonable inquiry relative to the age of the
person and the person is under 13 years of age.
(b) A person commits selling, renting, or transferring air
rifles to children when he or she sells, gives, lends, or
otherwise transfers any air rifle to any person under 13 years
of age except where the relationship of parent and child,
guardian and ward or adult instructor and pupil, exists between
this person and the person under 13 years of age, or where the
person stands in loco parentis to the person under 13 years of
age.

(720 ILCS 5/24.8-2 new)
Sec. 24.8-2. Carrying or discharging air rifles on public
streets.
(a) A person under 13 years of age commits carrying or
discharging air rifles on public streets when he or she carries
any air rifle on the public streets, roads, highways or public
lands within this State, unless the person under 13 years of
age carries the air rifle unloaded.
(b) A person commits carrying or discharging air rifles on
public streets when he or she discharges any air rifle from or
across any street, sidewalk, road, highway or public land or
any public place except on a safely constructed target range.

(720 ILCS 5/24.8-3 new)
Sec. 24.8-3. Permissive possession of an air rifle by a
person under 13 years of age. Notwithstanding any provision of
this Article, it is lawful for any person under 13 years of age
to have in his or her possession any air rifle if it is:
(1) Kept within his or her house of residence or other
private enclosure;
(2) Used by the person and he or she is a duly enrolled
member of any club, team or society organized for educational
purposes and maintaining as part of its facilities or having
written permission to use an indoor or outdoor rifle range
under the supervision guidance and instruction of a responsible
adult and then only if the air rifle is actually being used in
connection with the activities of the club team or society
under the supervision of a responsible adult; or
(3) Used in or on any private grounds or residence under
circumstances when the air rifle is fired, discharged or
operated in a manner as not to endanger persons or property and
then only if it is used in a manner as to prevent the
projectile from passing over any grounds or space outside the
limits of the grounds or residence.

(720 ILCS 5/24.8-4 new)
Sec. 24.8-4. Permissive sales. The provisions of this
Article do not prohibit sales of air rifles:
(1) By wholesale dealers or jobbers;
(2) To be shipped out of the State; or
(3) To be used at a target range operated in accordance
with Section 24.8-3 of this Article or by members of the Armed
Services of the United States or Veterans' organizations.

(720 ILCS 5/24.8-5 new)
Sec. 24.8-5. Sentence. A violation of this Article is a
petty offense. The State Police or any sheriff or police
officer shall seize, take, remove or cause to be removed at the
expense of the owner, any air rifle sold or used in any manner
in violation of this Article.

(720 ILCS 5/24.8-6 new)
Sec. 24.8-6. Municipal regulation. The provisions of any
ordinance enacted by any municipality which impose greater
restrictions or limitations in respect to the sale and
purchase, use or possession of air rifles as herein defined
than are imposed by this Article, are not invalidated nor
affected by this Article.
Interpretation of Airsoft Laws in Illinois
Since it could be confusing to read what's stated above, it's best to break this down into layman's terms to allow you to understand what is restricted in Illinois and what is not.
1. Definition of Air Gun
The Illinois Airsoft Gun laws defines an air gun as:
A gun that uses gas or spring propellant to shoot a breakable paintball or pellet made of hard plastic, steel, lead, or other hard materials. These Include:

Airsoft Guns,
Airsoft pistols
Airsoft spring gun
Airsoft Spring Pistol,
BB Gun
Paintball gun
Pellet Guns

The gun shoots its projectiles at a velocity that is strong enough to reasonably cause bodily harm. Airsoft guns fall in this category since they shoot fast enough to injure your eye or break your skin.
2. Selling Airsoft
The law states that it is unlawful for anyone to sell, rent, gift, or transfer possession of an airsoft gun to a minor who is under the age of 13 years.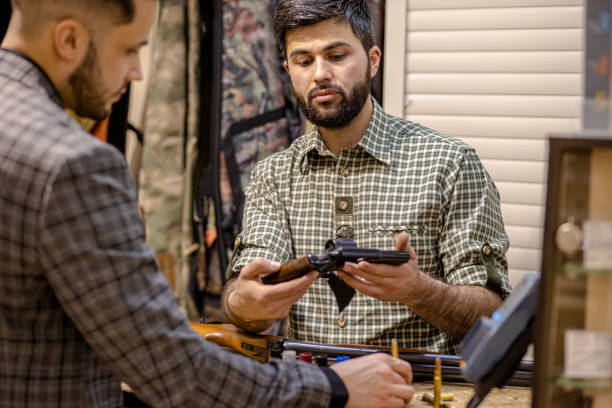 The only exception to this is if the person transferring possession is the parent, guardian, or adult instructor who takes a level of parental care for the minor.
3. Public Use
There are also restrictions on the use of airsoft guns in Illinois in public since these guns can still cause harm. It is illegal for minors under the age of 13 to:
Carry a loaded airsoft gun.
Shoot an airsoft gun in a public.
Public areas include but are not limited to the following:
Public streets
Roads
Highways
Common public areas
Parks
Public Side-walks
The Exception to this is if the airsoft gun is shot within a safely constructed area that prevents an airsoft BB from getting out of the area. A good example of this is an airsoft field that has a good enclosure or that is far enough from the general public to prevent any BBs from reaching anyone outside of the field.
4. Exceptions
The exception to this law is that a minor under the age of 13 can use airsoft guns as long as the guns are:
Kept within the house or private property
Used in a licensed club, field, facility, or shooting range
Used for club activity
In addition to this, the airsoft laws allow the sale of airsoft guns:
Made by dealers
To be shipped out of the state
That will be used at target ranges
A Final Word
Whatever the law states, you need to always remember that an airsoft gun is not a toy. It is a dangerous tool and should be treated with the same respect you would have for an actual firearm.
In Addition to this, the fact that most airsoft guns are made as exact replicas of actual firearms means that a person who does not know airsoft would mistakenly assume that you are carrying an actual firearm.
For this reason, It is really important to always carry your airsoft gun in a gun bag or case. If you don't have one, check this bag now on Amazon. The links below have a list of affordable cases or bags that you might want to consider.
The key to playing airsoft is to always practice safety precautions in and outside of the field. There will always be dangers in most sports but if you know how to safeguard yourself and act responsibly, these dangers are lessened or even eliminated.
Tell Me What You Think
We have compiled all the Airsoft Laws by State. Find out what the law in your state says about Airsoft Guns.
AL  AK  AZ  AR  CA  CO  CT  DE  FL  GA  HI  ID  IL  IN  IA  KS  KY  LA  ME  MD  MA  MI  MN  MS  MO  MT  NE  NV  NH  NJ  NM  NY  NC ND  OH  OK  OR  PA  RI  SC  SD  TN  TX  UT  VT  VA  WA  WV  WI  WY
Take a look and tell us if our posts are accurate for the state that you live in. Please also leave a comment on whether your state enforces these laws or not. We would love to hear your feedback. We'll strive to keep these laws updated. Let us know if this is not the case in the comment section below.
Thanks for reading this. Please share it with anyone who may benefit from reading it.