California Airsoft Laws govern numerous aspects of using Airsoft Guns. Many of them deal with buying airsoft guns and using them in public. Airsoft and BB weapons use is also governed by local ordinances, which might differ from county to county.
However, state laws serve as the standard for what is and is not allowed. And If you were to shoot it in your backyard, neighborhood, park, etc., you could conceivably find yourself in problems with law enforcement.
The Exception to the Airsoft Laws in California
The airsoft laws do not apply to Airsoft Guns and Imitation Guns that are
White
Red
Orange
Pink 
Blue 
Purple
Transparent
Therefore, getting an airsoft pistol with the colors mentioned above is best advised if you want to avoid legal issues. Knowing the regulations listed below may one day help you if you like "as close to real as possible."
What Are the Laws That Apply in Possessing an Airsoft Gun?
Adults in California are generally permitted to own airsoft guns, but public use or exhibition of these weapons is illegal. If you use an airsoft gun to shoot another person or their property, you could also commit other felonies.
If you are found guilty of the crime of using an airsoft gun, you might be subject to a variety of penalties.
Even though a young child might have believed that his airsoft gun was a toy on his birthday, California law has a different view. While it is lawful for adults to own airsoft guns, minors under 18 require parental consent to carry or have an airsoft gun. Selling or giving airsoft guns to someone younger than 18 is prohibited.
Minors Can't Buy– California Law prohibits the sale of airsoft guns to minors or anyone below the age of 18. This means you would need to have your ID if you want to buy any airsoft equipment
Minors Can't Carry– it is also illegal for a minor to furnish an airsoft gun without being accompanied by an adult.
Don't Take it to a School– Airsoft Laws in California make it illegal for anyone without the express permission of the principal to carry an airsoft gun to a both private and public schools.
Don't Brandish it in public– unless, in self-defense, it is illegal to draw your airsoft gun in a crowd or threaten to inflict bodily harm to anyone. The exception is when it is in self-defense.
Open Carry is Prohibited– openly exposing your airsoft gun in a public place is restricted. The law, in this case, defines public spaces as Driveways, Streets, Bridges, Alleys, Plazas, Parks, Sidewalks, Building open to the general public, etc. The exception to this rule is the carrying of brightly colored or utterly transparent airsoft guns.
Metal Airsoft Guns in Public Transport & Government Offices
Any imitation firearm shown in Public in California is illegal, and all airsoft guns are explicitly included in the definition of imitation firearms in the law. In this statute, the phrase "public place" broadly defines areas that you may typically think of as private property.
You could get into trouble if you intentionally carry an airsoft gun in transit or public transportation. The same is true for all government agencies.
Furthermore, the following locations are explicitly prohibited by California law from having airsoft guns:
Government buildings
Airports
Public or private schools
1. Don't Remove Colored Tip
It's against the law to remove the bright-colored markings to distinguish an imitation gun from a real firearm. This is obvious since those who intend to commit crimes would want to utilize airsoft guns.
2. Packaging Rules
To be able to sell their airsoft equipment in California, manufacturers and distributors of airsoft gear must adhere to the following packaging regulations:
Consumers should exercise caution since the product may be mistaken for a real firearm by law enforcement.

Changing the color of an airsoft weapon is risky and can be against the law.

Using an airsoft gun in public may be misleading and illegal.
Penalties for Using Airsoft Guns Illegally
Public display of a fake gun, such as an airsoft gun, is often only sanctioned by a fine. The following statutes carry fines of $1,000 for first-time offenders, $5,000 for second offenses, and $10,000 for third or subsequent violations.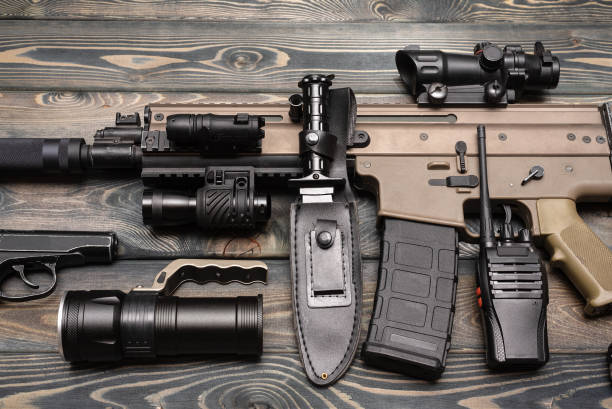 Battery is the actual application of force, whereas assault is the attempt to use violence, which is criminalized. A $2,000 fine and up to six months in county prison are possible penalties for shooting someone else with an airsoft gun.
This is considered battery. Even if you miss when shooting an airsoft gun at someone, you might still be charged with assault and sentenced to up to six months in county prison and a $1,000 fine.
A charge of assault with a dangerous weapon may be brought against someone who seriously injures another person, such as by breaking a bone or concussion. The most severe penalty for this offense is felony charges with a potential sentence of four years in state prison.
Be sure you or your loved ones use airsoft guns appropriately since there are a few places and circumstances where you may lawfully use one.
Laws That Apply in using an airsoft gun in California
Always know the laws yourself if you want to own an airsoft gun. Even if this version of the codes might not be the latest, information from California could be more up-to-date or accurate.
Regarding the correctness, completeness, or sufficiency of the information on this article or the material linked to on the state site, we offer no warranties or assurances. 
The Airsoft Laws in California are contained in California Penal codes:
1. Cal. Penal Code 19910
2. Cal. Penal Code 16250
3. Cal. Penal Code 19915
4. Cal. Penal Code 626
5. Cal. Penal Code417.4
6. Cal. Penal Code 16700(a & b)
7. Cal. Penal Codes 20170-20180, 1
8. Cal. Penal Code 71.7, 25
9. Cal. Penal Code 25655
Conclusion
In conclusion, ensure you handle an airsoft gun like a weapon rather than a toy. To avoid breaking any laws, strict management is crucial. 
The law in California forbids the possession of an Airsoft replica that resembles a genuine firearm both in terms of color and appearance. Being mistaken for someone else has resulted in several mishaps in the past. 
Following the laws stated here ensures your safety as well as those around you. Avoid using your gun in public and check out the dedicated places such as airsoft fields that allow the use of airsoft guns to avoid getting in trouble with the law.
A Final Word
Whatever the law states, you need to always remember that an airsoft gun is not a toy. It is a dangerous tool and should be treated with the same respect you would have for an actual firearm.
In Addition to this, the fact that most airsoft guns are made as exact replicas of actual firearms means that a person who does not know airsoft would mistakenly assume that you are carrying an actual firearm.
For this reason, It is really important to always carry your airsoft gun in a gun bag or case. If you don't have one, check this bag now on Amazon. The links below have a list of affordable cases or bags that you might want to consider.
The key to playing airsoft is to always practice safety precautions in and outside of the field. There will always be dangers in most sports but if you know how to safeguard yourself and act responsibly, these dangers are lessened or even eliminated.
Tell Me What You Think
We have compiled all the Airsoft Laws by State. Find out what the law in your state says about Airsoft Guns.
AL  AK  AZ  AR  CA  CO  CT  DE  FL  GA  HI  ID  IL  IN  IA  KS  KY  LA  ME  MD  MA  MI  MN  MS  MO  MT  NE  NV  NH  NJ  NM  NY  NC ND  OH  OK  OR  PA  RI  SC  SD  TN  TX  UT  VT  VA  WA  WV  WI  WY
Take a look and tell us if our posts are accurate for the state that you live in. Please also leave a comment on whether your state enforces these laws or not. We would love to hear your feedback. We'll strive to keep these laws updated. Let us know if this is not the case in the comment section below.
Thanks for reading this. Please share it with anyone who may benefit from reading it.